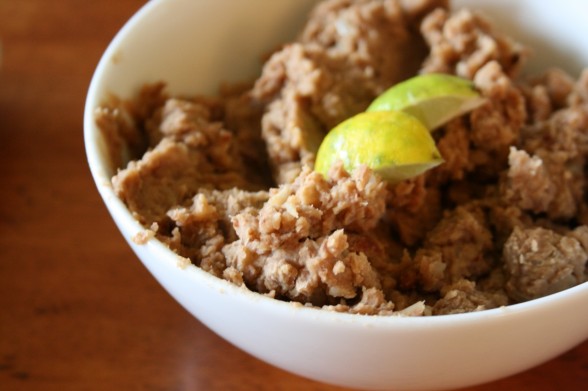 I love easy simple meals that are full of healthy ingredients but don't require a lot of time or energy to prepare! Burritos is one of those that provides a well balanced meal with lots of flavor and as much variety as you desire. You can add meat of any kind and spice it up with a little taco seasoning mix, or keep to a basic flavorful refried bean for the frugal minded. There are numerous recipes out there for refried beans, but here is our concoction to get you inspired! We make a large batch of refried beans at one time and I freeze them in smaller batches for future easy meals (lunches or dinners). I will put quart size mason jars of refrieds in the freezer for easy access. This cuts down on your work and makes it more simple.
Refried Beans
8 cups dry pinto beans
1 1/2 Tablespoons sea salt
2 teaspoons cumin
4-6 garlic cloves, minced
1 onion, chopped
dash of hot sauce or 1-2 jalapeno, seeded
pepper, season to taste
1. Soak your beans overnight in a crockpot with fresh filtered water and 1-2 Tablespoon raw apple cider vinegar, white vinegar, or lemon juice. This helps to de-gas the beans and break down the phytates that inhibit proper digestion.
2. Rinse the beans and fill your crockpot again with fresh filtered water to cover the beans by about 2 inches. Turn on low for 5-6 hours. Keep an eye on them and add more water if needed.
3. After the beans are soft, drain and reserve about 1 cup of the liquids.
4. In a large stock pot, saute your onions and garlic. Add the cooked beans and just enough liquids to make a smooth paste. With a hand mixer, blend up the beans till it reaches your desired consistency. Add more liquids as necessary. Add your salt, cumin, hot sauce, and season with pepper to taste.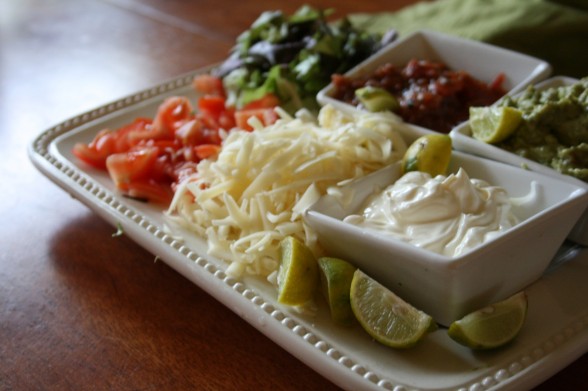 Our favorite toppings include: salsa (our fermented salsa is a huge hit!), sour cream, raw cheddar cheese, tomatoes, limes, lettuce, and guacamole! For a gluten free variety, we serve on brown rice or corn tortillas! Simply heat them up on both sides in a pan with a bit of butter or olive oil and you have a wonderful pliable tortilla to fill with goodness.
Enjoy!