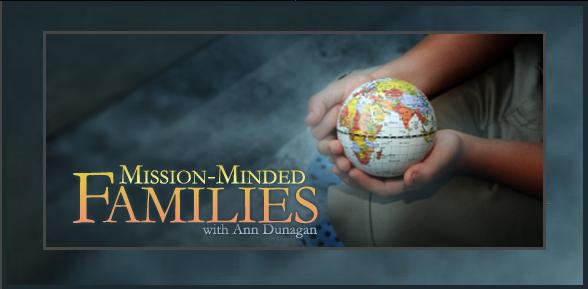 by Passionate Homemaking's monthly contributor, Ann Dunagan.

The week before Resurrection Sunday (which is also known as "Holy Week" or the week of "Passover") is one of the best times of the year to share the Good News of Jesus. Many families, especially those with children, are looking for special springtime holiday or Easter-fun ideas, and some mothers, especially those with school-age children, will consider bringing their family to church or to a special Passion play (even if they usually never attend).
The Jewish celebration of Passover is to remember how God delivered the Hebrews from slavery in Egypt and how the death angel "passed over" their homes. A special dinner called "Seder" includes unleavened bread (Matzah), lamb, and bitter herbs.
Jesus celebrated the Passover every year, and through His death on the cross, He fulfilled it. God has provided freedom from the bitterness of sin and eternal death, for ". . . Christ, our Passover Lamb, has been sacrificed for us" (1 Corinthians 5:7 NLT).
Passover IDEA: Perhaps your family could have a special "Seder" dinner (or even communion) this Thursday night with another family. Or, you could invite a few families to watch The Ten Commandments, and you could talk about how Jesus (Y'shua) came as the fulfillment of the Jewish Passover Messiah.
Years ago, as our family was on a mission trip during Holy Week to Costa Rica and Guatemala, our family felt so burdened as we witnessed to people on the streets. Although the cultural traditions were beautiful and deeply religious (below are a few examples of the elaborate Holy Week flower-carpets from Antigua, Guatemala), many people we met had no personal relationship with the Lord, or an understanding that JESUS is ALIVE today. We saw huge processions with statues of Jesus and other religious relics carried through the streets, yet in many places, even on Sunday morning, there was little (no mention) of the Resurrection.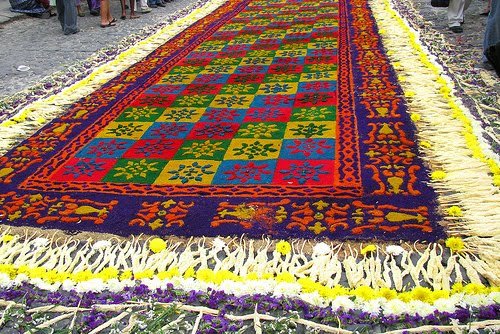 Just last week, our family took pretty flower-seed packets and handed them out on the streets in our city, and at a local Blossom Festival parade, along with "A FRESH START!" Gospel witness, and an invitation to our church. We were able to share with hundreds of people, and had some great conversations!

Mission-Minded Family Ideas for HOLY WEEK:
1. Pray for families you know who are thinking about Easter eggs and baskets for their kids, but who have no thought about the real meaning of the Cross and the Resurrection. Brainstorm a few specific ways that your family make an impact, this week, for Jesus. Perhaps you could go to a local public Easter egg hunt, specifically for your children to share about Jesus, or to invite people to your church.

2. Think of the families in your neighborhood, and pray about who you could invite to church. Walk through your neighborhood, and pray for these families specifically. Make a simple effort (perhaps with a phone call, a stop at their house with a plate of cookies or a simple basket with Easter treats and a church bulletin or handwritten card) and INVITE them to come.

3. Have your kids make simple hand-drawn pictures about the cross of Jesus Christ and the resurrection, with an invitation to your church's Sunday Easter Service; bring the drawings with you the next time you are in the vicinity of your home church, and have your kids look for someone specific they can invite to church.

4. Read the Biblical account of the Passion Week.

5. Read aloud from Christian children's books which focus on the true meaning of the Cross and the Resurrection of Christ, such as any Bible storybook. Two of our family favorites are The Tale of the Three Trees, or The Little Rose of Sharon.

6. If you decorate Easter eggs, include pictures of the cross and the empty tomb, and words such as "JESUS IS ALIVE!" (You can write these with crayon, before you put the eggs in the dye.)

7. Celebrate communion together as a family or even all by yourself during a quiet time – perhaps on Thursday (to remember the Last Supper) or on Good Friday. Play a CD, or sing together a simple song you know about the cross or the blood of Jesus, read aloud I Cor. 11:23 – "For I have received of the Lord that which also I delivered unto you, That the Lord Jesus the same night in which he was betrayed took bread…"

8. Watch the classic film, The Ten Commandments, starring Charlton Heston, and especially focus on the scene of the Passover and the blood of the Lamb.

9. Watch a film about the Cross and the Resurrection – The JESUS Film by Campus Crusade for Christ (from the Gospel of Luke, translated into about 1000 languages and is utilized in missions and evangelism throughout the world), The Gospel of John, or The Passion of the Christ, are all excellent selections.

10. Look on-line to get a glimpse of Holy Week celebrations throughout the world – to focus your prayers on nations and people who need to receive Jesus Christ as their Lord and Savior.

11. Have your kids use sidewalk chalk to draw pictures of Jesus, and the Cross, and the Empty Tomb. Write, "JESUS IS ALIVE!!!" and "GOD LOVES YOU!!!" outside your house on the sidewalk in front of your house.

12. If you have a daughter, a few little girls to join you for a fun & fancy (but simple) dress-up Easter Tea Party. Eat little sandwiches and strawberries; drink tea in teacups, and read aloud a picture storybook about Jesus (this is a good time to read The Little Rose of Sharon).

13.Take a few Children's books with the story of Jesus and the Cross & Resurrection (such as The Three Trees), and invite local neighborhood kids to your front yard to listen to you read aloud.