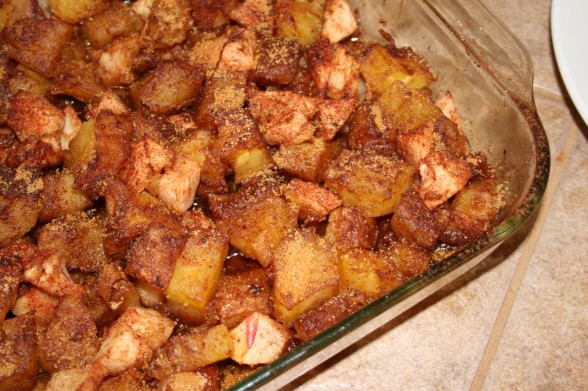 This is my favorite side dish for our holiday celebrations! It is simple, nutritious, and always receives rave reviews! Yes, it is certainly a bit of dessert with dinner. Yum! It's even better prepared a day in advance, giving it more time to mesh the flavors.

4 sweet potatoes, peeled and cut into 1/4 inch slices
3 apples – peeled, cored and cut into 1/4 inch slices
1/2 cup sucanat/rapadura
2 teaspoon ground cinnamon
1 1/2  teaspoon ground nutmeg
1/2 cup butter or coconut oil (coconut oil adds wonderful flavor to this dish!)
1/2 cup chopped pecans (optional)
Directions
Peel and slice sweet potatoes and apples into 1/4 inch slices.
Melt the coconut oil/butter and add sweetener, cinnamon, and nutmeg.
Place the slices of apples and sweet potatoes throughout a 13 x 9 inch casserole dish. Drizzle with coconut oil and spice combination. Gently combine. Sprinkle with pecans, if desired.
Bake at 350 degrees F (175 degrees C) for 45 minutes, or until lightly browned and soft.
Yield: 10-12 servings.
This post is a contribution for the Whole Foods for the Holidays: Side Dishes Carnival!
May you all have a very blessed Thanksgiving!