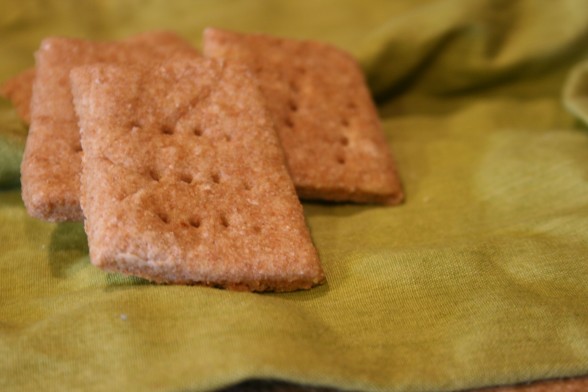 My kiddos love having homemade crackers to munch on during snack time or as an excellent clean food option for traveling. We have greatly enjoyed Kimi's cracker recipe with some variation. This recipe is light, soft, and easy to munch for little teeth, as a teething biscuit alternative, and for a simple lunch with cheese and meat. You can add spices, such as rosemary, and various seeds, as desired. We make one batch weekly and it is quickly consumed! Sprouted wheat flour can be substituted if you desire to avoid soaking.

3 1/2 cups whole wheat flour (or combination of grains – we substitute 1 cup of millet flour)
1/4-1/2 cup coconut oil or butter, melted (we prefer 1/2 cup because it makes a moist richer flavor. Less will give a dryer crunchier cracker. Butter will make it richer in flavor as well.)
1 cup kefir (watered down to the consistency of buttermilk), buttermilk, yogurt, or water and 1 Tbsp apple cider vinegar
1 tsp sea salt
1 tsp baking powder
Soaking Step: To achieve the benefits of soaking, combine whole wheat flour and kefir until well incorporated. Cover with towel and allow to sit at room temperature for 12-24 hours.
After soaking, add the melted coconut oil or butter, salt and baking powder. Kneed ingredients together till well combined. Divide dough into two portions. Roll each portion into a large rectangle (about 1/16 inch thick). Cut into desired squares and place on a cookie sheet. Pierce each cookie with a fork 2-3 times. Bake in a 425 degree oven for 10-12 minutes until lightly brown. Enjoy!