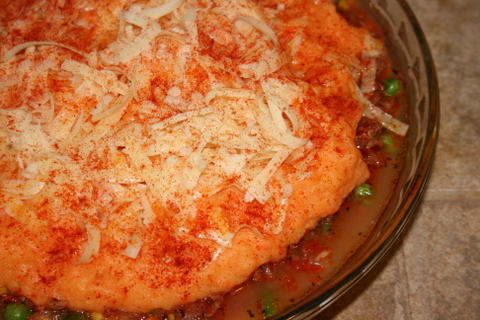 I have made some additions to this recipe to add some further wonderful flavors! This is one of my favorite nutritious winter meals for any size family. A great way to stretch your meat for a frugal well balanced meal. You can even throw in some rice or quinoa as desired. It freezes remarkably well!

Shepherd's Pie
8 medium potatoes, cut into chunks
8 medium carrots, cut into small chunks
1 lb. ground turkey or ground beef
1 medium onion, chopped
3 garlic cloves, minced
20 ou. can tomato sauce, diced or stewed tomatoes
2 1/2 tsp. sweet basil leaves
1-2 Tbsp natural sweetener (honey, rapadura or sucanat)
1 tsp. salt
1 tsp paprika
1/2 tsp ground mustard
1 tsp garlic powder or more fresh garlic
1 bay leaf or 1 tsp chopped bay leaf
1 cup fresh mushrooms, sliced (optional)
3-4 cups total veggies – mushrooms, green beans, peas & corn, fresh or frozen
milk, butter & salt to season mashed potatoes, as desired (our favorite combination: 1/4 cup butter, 1/2 tsp salt, 2 Tbsp mayonaise, and 1 garlic clove)
1/2 – 1 1/2 cups grated cheddar cheese
Boil and cook potatoes and carrots. Carrots take longer then potatoes, so I encourage starting with carrots and then adding potatoes after 10 minutes or so. While cooking, brown ground turkey/beef in a skillet adding onion and garlic when about half browned. Add remaining ingredients, except vegetables. Season as desired. Allow to simmer for 20-25 minutes. Add mushrooms, green beans, peas and corn, as desired in the last 5-10 minutes. Mash the potatoes and carrots once they are soft with a mixer and add milk, salt and butter to flavor. Layer the meat mixture in a 9×13 pan (or two 8×8 pans), followed by the mashed potatoes. Top with cheese and a dash of paprika (if desired). Bake for 30 minutes at 350 degrees.
For the Freezer:
Combine and assemble all the cooked ingredients as instructed but refrain from baking. Cover and freeze as desired. When ready to serve, thaw and bake at 350 for 30 minutes. For our smaller family, I divide this into two 8×8 pans and freeze one for later. Yum!