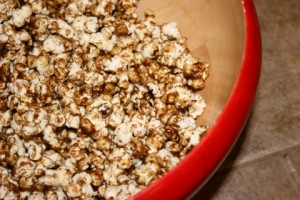 Here is a yummy evening treat with a natural sweetener alternative! We love popcorn at our home as a frugal and delicious snack or dessert. My papa made popcorn all the time growing up and we loved it! We pop our corn by pouring a thin layer of olive oil, followed by a thin layer of popcorn kernels in a large pot, cover, and shake back and forth over the medium heat till the popping sounds cease. Top with butter and salt or the following caramel corn recipe and enjoy!

3 ¾ qts (15 cups) popped corn (no need to be exact with the measurements here!)
1/2 cup rapadura or sucanat (or brown sugar can be used, if desired)
1/4 cup honey
½ cup butter
½ tsp sea salt
½ tsp baking soda
½ tsp vanilla
In small saucepan heat your sweetener choice, butter, salt & vanilla, stirring occasionally, until bubbly around edges, about 2-3 minutes. Remove from heat and stir in soda. Continue to stir as you pour over popped corn till coated.
Makes about 6-8 servings.