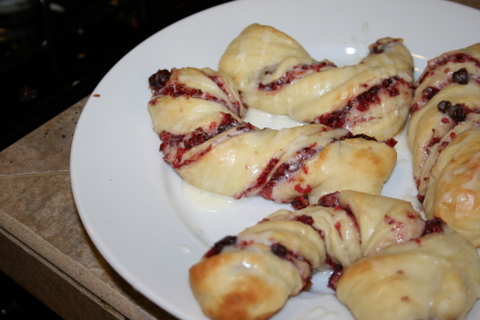 The Edmonds side of the family makes these traditionally on Christmas morning, and I wanted to continue the tradition as Aaron absolutely loves these little canes! I did find them quite scrumptious, and they should be for all the sugar they have…but splurging a little is okay with me for such special occasions! I share this recipe just to show that I am not a healthy cook all the time, although they are free of additional preservatives, and have fresh nuts, cranberries and raisins, so that counts for something. Additionally, keeping my hubby happy is an important priority!

A little sugar keeps life exciting!

CANES:
1 cup whole milk
4 cups unbleached white flour
1/4 cup sugar
1 tsp salt
1 tsp grated lemon peel
1 cup butter
1 package active dry yeast, 1 scant Tbsp
1/4 cup warm water
2 beaten eggs
FILLING:
1 1/2 cups chopped fresh cranberries
1 cup sugar
1/2 cup raisins
1/3 cup chopped nuts
1/3 cup honey
1 1/2 tsp grated orange peel
GLAZE:
1 cup powdered sugar
1 Tbsp butter, softened
1 Tbsp half-and-half
TO MAKE DOUGH: In a saucepan, warm milk to lukewarm. In a large bowl, combine flour, sugar, salt, and lemon peel. Cut in butter until the mixture is like coarse meal. In measuring cup, dissolve yeast in warm water. To flour mixture, add dissolved yeast, lukewarm milk and eggs. Combine lightly to form dough. Cover dough tightly, refrigerate for at least 2 hours; can hold up to 3 days.
TO MAKE FILLING: In saucepan, combine cranberries, sugar, raisins nuts, honey and orange peel. Bring to a boil and boil 5 minutes. Cool. Preheat oven to 400 degrees.
TO ASSEMBLE: Divide dough in half. On floured board, roll each half into 18-by-15-inch rectangle; spread each piece with half the filling.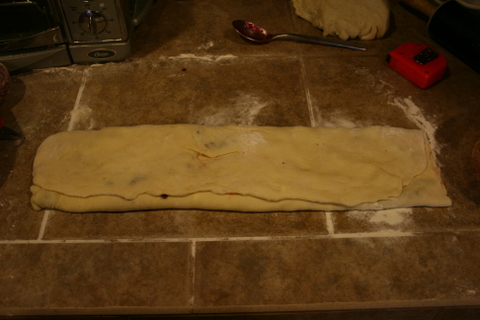 Fold in from the 18-inch sides of rectangle, folding the dough in thirds, as you would fold a letter; the dough will be about 6 inches wide and 15 inches long (as pictured above). Press edges to seal. Cut into 1-inch pieces. Twist each piece a couple of times, holding by the ends. Place on greased baking sheets and pull one end around to make a hook of a cane (as pictured below).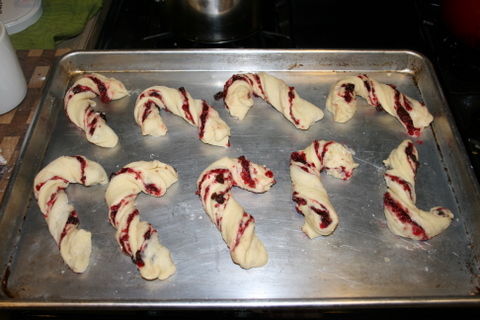 Bake 10-15 minutes. For best results, use double baking sheet or an airbake baking sheet. While still warm, drizzle the canes with powdered sugar glaze.
TO MAKE GLAZE: Mix powdered sugar with softened butter and add enough half and half to make it of drizzling consistency.
This recipe makes about 24 candy canes, and could easily be frozen. I made the full batch and froze half of it for another special ocassion.
Visit Tammy's Recipes for more kitchen tips and recipes.