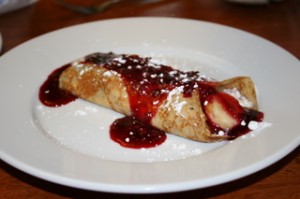 These are simply delicious made with whole grains and a wonderful treat for a breakfast or dinner meal depending upon what you choose as filling. Breakfast crepes taste delightful with a variety of fresh fruit! We made chicken curry dinner crepes a few weeks ago and they were yummy as well! This recipe makes approximately 6 crepes.
¾ cup kefir, coconut kefir (for dairy free), or cultured buttermilk
2 tsp coconut oil (or olive oil)
1 egg
1/8 tsp salt
1 tsp honey, only for sweet crepes
¼ tsp cinnamon, only for sweet crepes
½ cup flour or 1/3 cup whole grain (raw, uncooked) – we love it with spelt or kamut, but you can also use a combination of brown rice and millet or quinoa (make sure to rinse for a full minute before grinding) if you are gluten intolerant
Combine in a blender: kefir (or acid medium of your choice), oil, and whole grain and blend for 3 minutes on high, or just 30 seconds if using flour. If desired, cover blender and let batter stand overnight at room temperature to benefit from breaking down the phytates (Read more about the benefits of soaking here). After soaking, add egg, salt, honey & cinnamon (if desired).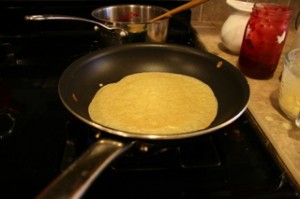 Lightly spray or wipe a seasoned crepe pan or non-stick pan (yes, I use non-stick for these since they are so fragile and prone to sticking!) with oil (coconut oil is preferred). Use a napkin or wax paper to wipe out excess. Pour 3 Tablespoons batter (filling a ¼ cup measuring cup ¾ full) into your hot pan, quickly tilting pan to swirl the batter evenly to edges of pan. Keep mixing your batter as you make each new crepe. Bake until the edges are browned (about 1-2 minutes). Loosen along edges with table knife or shish kabob stick. I use my fingers and that works great as well! Turn over and bake on opposite side for about 30 seconds. Lightly apply further oil with napkin or wax paper between crepes, wiping out excess. These freeze very well and can be eaten hot or cold.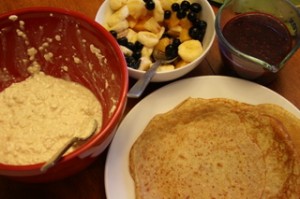 Cottage Cheese Filling
1 1/2 cups cottage cheese or ricotta cheese
4 tsp honey, maple syrup or other natural sweetener
a dash of lemon juice
a dash of vanilla extract
After cooking your crepes, fill with your cottage cheese filling and a selection of various fresh or thawed fruit. This time around we choice bananas, pineapple, thawed blueberries and sliced peaches from our home canning. Yummy! A berry sauce is an excellent topping to complete it all!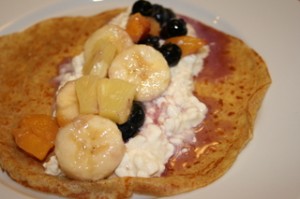 Adapted with permission from Sue Gregg's Breakfast Cookbook, one that I highly recommend for lots of hearty breakfast cooking, including many soaked breakfast recipes.
This post is part of Kitchen Tip Tuesdays.