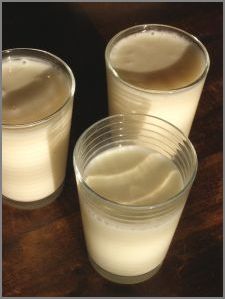 Many dairy products are very easy to make yourself, nutritious and frugal. So why not give it a try? I completed my first batch of whey & cream cheese this week! Here are some recipes and benefits for your enjoyment.
Remember, it is best to just explore with one thing at a time. I have listed them in the order that is easiest to start including, and most beneficial.
NOTE: You will notice in these recipes that I personally prefer and use raw cow's milk. This may sound very odd to many of you. If you would like to read more about this crazy phenomena visit here. Either way, you can make all of these recipes with regular milk as well and still save money and increase your overall nutrition. I make kefir each week, but the other products are fun to make when I have extra milk, so not as regularly (I have only been experimenting lately!).
Kefir
Kefir, which means 'feel good" in Turkish, is an ancient cultured, enzyme-rich food filled with friendly micro-organisms that help balance your "inner ecosystem" to maintain optimal health and strengthen immunity.
Kefir's tart and refreshing flavor is similar to a drinking-style yogurt, and it contains beneficial yeast as well as the friendly 'probiotic' bacteria found in yogurt, but is more nutritious. When used regularly, the naturally occurring bacteria and yeast in Kefir combine symbiotically to help balance your intestinal flora and boost your immunity.
Among its many beneficial powers, Kefir:
Provides supplemental nourishment for pregnant and nursing women
Contributes to your healthy immune system
Promotes a relaxing effect on the nervous system and benefit many who seek a restful night's sleep
Helps support your normal intestinal tract function, promote bowel movements and your healthy digestive system — and is beneficial after the use of antibiotics to restore balance to the digestive tract
Curbs unhealthy food cravings by making your body more nourished and balanced
How do you make it?
I make kefir by placing my kefir grains in a quart size mason jar and filling it to the top with whole milk (you can also make it with an assortment of different milk, including coconut or almond milk). Cover loosely with lid. I let it sit in warm dark place for 24-48 hours, as mine tends to take longer in my cold house. After it has solidified, I remove the grains, and place the kefir in the frig. The grains are placed in a small amount of milk in the frig for the next batch or can be used immediately. I have discovered after much research that it is not necessary to rinse your grains after each batch, although you can if you would like.
Futher Reading:
Cultures for Health – buy kefir grains for a great price from this wonderful company! My source for all cultured starters.
How to Make Sour Cream from Kefir – this post was very insightful. This lady shares how she uses kefir to make sour cream as well. I like this suggestion.
Tammy's Tutorial on Making Kefir – did a better job than I, so here you go!
Uses for Kefir – a post I wrote a while back on the many uses of Kefir! Great for smoothies and replace all buttermilk with this fabulous product!
Whey & Cream Cheese
"Whey is such a good helper in the kitchen. It has a lot of minerals. One Tablespoon of whey in a little water will help digestion. It is a remedy that will keep your muscles young. It will keep your joints movable and ligaments elastic. When age wants to bend your back, take whey….With stomach ailments, take one tablespoon whey three times daily, this will feed the stomach glands and they will work well again."
- Hanna Kroeger, Ageless Remedies from Mother's Kitchen
How do you make it?
Take 1-2 quart of whole milk, buttermilk or yogurt and place in a clean mason jar. I had about 1/2 a quart of leftover milk to work with. If you use yogurt you can skip the first step.
1. Cover with lid and allow to sit 1-4 days (buttermilk will take 1-2 days). Mine took about 4 days. You want it to separate into white curds and yellowish whey.
2. Line a large strainer set over a bowl with a clean dish towel, tea cloth, or cheesecloth (tea cloth works for me!). Pour in the separated milk, cover and let stand at room temperature for several hours (longer for yogurt). The whey will run into the bowl and the milk solids will stay in the strainer.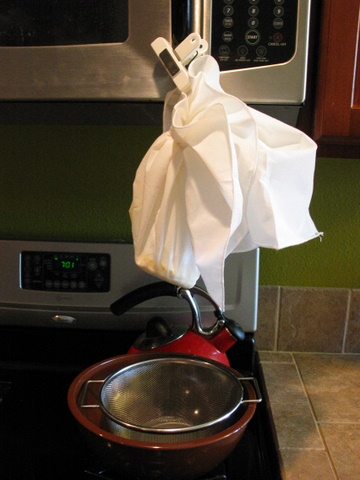 3. Tie up the towel with the milk solids inside, being careful not to squeeze. Tie this little sack to a wooden spoon placed across the top of a container (pitcher or something of the sort). Or be creative like me and hang it from the microwave door or from a cupboard nob with a combination of rubber bands. This allows all the whey to drip out. When the bags stops dripping, the cheese is ready. Store whey in a mason jar and cream cheese in covered glass container. Refrigerated, the cream cheese will keep for about a month and the whey for about 6 months. I recommend mixing the cream cheese with some herbs for a herbal spread.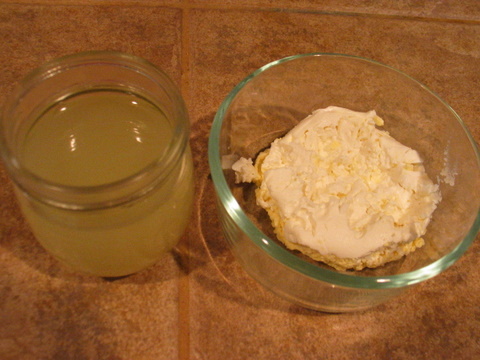 Creme Fraiche
Creme Fraiche is the European style of sour cream. It is a delicacy to top your soups with! I have only tried this once and it definitely tasted like creme fraiche, but was more on the sour side.
How do I make it?

Combine 2 cups heavy whipping cream (preferably raw cream, if possible) with 2 Tbls buttermilk or sour cream in a mason jar. Cover and let sit at room temperature for approx. 24-48 hours. Keep an eye on it and taste it after 8 hours. Differing house temperatures will affect the time length. The warmer it is, the quicker it will solidify. It will become like the texture of sour cream. Refrigerate for 24 hours before serving. Lasts about 1-2 weeks. For future batches you can keep 2 Tbls of the original batch to replace for buttermilk.
Butter
Check out how to make your own butter here. I have found that homemade butter does not last very long, because it is very difficult to squeeze out all the buttermilk. I found that you should make small batches of it, use it quickly, and or freeze it in small batches.
Frugal nutritional living is lots of fun! Join us for the ride!