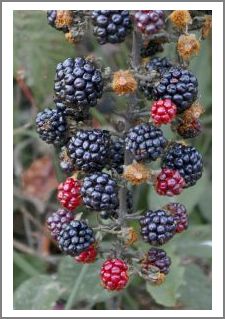 More nutritious desserts that won't kill you! I wish I had pictures, but alas, you will just have to take my word for it, these are good! Don't you love the thought of making good wholesome desserts? I sure do…that is why I am always experimenting with recipes and tweaking them to make them healthy!
Berry Cobbler
Take advantage of all those wonderful antioxidants in berries with this simple dessert!
Topping:
1 1/2 cups oats
1 1/2 cups rapadura
1 1/2 cups whole wheat flour
1 1/2 cubes butter (soft) – half and half w/coconut oil, if desired
Filling:
8-9 cups berries, frozen (I combine blackberries & raspberries)
2 Tbls lemon juice
1 tsp cinnamon
1/2 cup maple syrup
2/3 cup whole wheat flour
If you use your berries frozen, defrost only partially. If fresh, add a lot more flour to the filling to give it weight, otherwise it will be very runny. Combine all filling ingredients and place in a 13×9 greased pan (use coconut oil!). Combine topping ingredients and layer over the berries. Bake at 375 for 30 minutes. Let sit for 1 hour so it solidifies.
Baked Custard
I recently tried this recipe from Nourishing Traditions and I was pleasantly surprised! A great way to use extra milk. I used all milk. Very similar to creme burlee.
1 cup whole milk
1 cup heavy cream
1/4 cup honey or Rapadura
5 egg yolks
1 tsp vanilla extract
Warm milk and cream gently over a low flame. Meanwhile, beat Rapadura or honey with egg yolks. Slowly add milk and cream mixture to eggs, beating constantly. Blend in vanilla and pour into individual custard cups (or whatever you have!). Place in a pan of hot water and bake at 325 degrees for about 1 hour, or until a knife inserted into the custard comes out clean. Chill well.
Serves 5-6.
My real life friend, Kimi, shared a recipe for Hearty Quinoa Cookies. She just started a sweet new blog on cooking nutritiously with recipes! I can't wait to try it!